Overview
Racing/Breeding
Avalanche  
Metaderby is a free-to-play-and-earn horse racing metaverse where anyone can earn tokens through skilled gameplay. Players could earn rewards by racing, breeding, trading horses and betting on horse races.
Each player is given an NFT horse, called Starter Horse, for free which the player can breed, use to explore the land, or build a team, build a race course and run races.
How do you earn by playing MetaDerby
MetaDerby is a play-to-earn horse racing metaverse, the player can receive token rewards with free-to-play features. The player has the opportunity to maximize token rewards by participating in:
1-Horse Races
2-Horse Breeding
3-Buying his/her own land
4-Building on lands to use for breeding horses or hosting races.
Also, extra token rewards can be gained by:
1-Daily reward programs
2-Referral program
3-Selling gaming assets
Tokenomics in MetaDerby
There are two main tokens; HOOF, which is a utility token and DBY, which is a governance token.
HOOF
It is a utility token and comes in unlimited supply and serves as the fundamental gas in MetaDerby.
HOOF use cases include:
1-Entry fees to stables by male horses
2-Breeding fees for male horses
3-Mystery box purchase
4-Materials purchase and constructions for farm lands and race courses
How to obtain HOOF :
1-By becoming one of the Top 3 in the horse race
2-By hosting a horse race
DBY
The governance token is Derby (DBY), there is a total supply of 1 Billion. Its use cases include:
1-Metaverse land purchase
2-Liquidity provision
3-Gaming governance
How to obtain DBY
Players can receive DBY governance tokens by selling horses, participating in the weekly tournaments or breeding.
What are use cases of DBY tokens?
Players who have DBY tokens will be able to participate in the decision-making process, and once the community becomes mature, they will be able to vote on key matters relating to the development and future direction of the MetaDrby-verce.
MetaDerby Content
Videos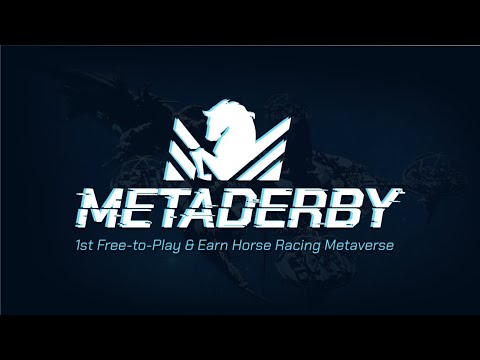 Join the MetaDerby Universe
MetaDerby - Quick Brew - #Crypto #NFT's #BuyCrypto #TheNFTeaRoom
Get Web3 Smart. Subscribe to our daily digest.
You can unsubscribe any time. By subscribing, you agree to our Privacy Policy & ToS.