Overview
Auto Battler/Mining/Breeding
Avalanche  
What is Crabada?
Crabada is a crab-themed play-to-earn, cross-platform Web3 game of an exciting undersea adventure. It is an auto battler game. Crabada uses Avalanche's subnet technology through its subnet, Swimmer Network.
What do you Need to Start Playing?
To get started, players need at least three crabs NFTs to set up a team and earn the in-game currency Gold Under Sea (GUS). Gamers need to buy crab NFTs to play different game modes that include a Battle game with mining and looting features, Adventure game and an Arena game.
What are Crabada NFTs?
Crabada are NFT Assets, they can be bred and used in games to earn in-game rewards and cryptocurrencies with real value.
All Crabada live on the blockchain, so players have full control of their assets, which allows players to rent, trade or sell them on the marketplace.
What about Game Token and Currency?
CRA: Crabada is a governance token which is rewarded via staking and playing the game during the incentive period.
TUS (Treasure Under Sea):is the network token of Swimmer Network and used to buy or sell Crabada on the Crabada Marketplace. TUS can also be obtained via DEX on Avalanche C-Chain.
GUS (Gold Under Sea): is the in-game currency and can be earned by playing the game or crafted using in-game Material through various available game modes such as Mining and Looting.
Can you Breed Crabada?
You can Breed powerful and unique Crabada, with special strengths and abilities to be used in battle. You can earn rewards by engaging in Battle games as you send your Crabada to Battle anytime, anywhere.
What about the Adventure Mode?
You can go on an Exciting Adventure: Discover rich new lands and engage in challenging boss fights as you progress through Adventure Mode!
Crabada Content
Videos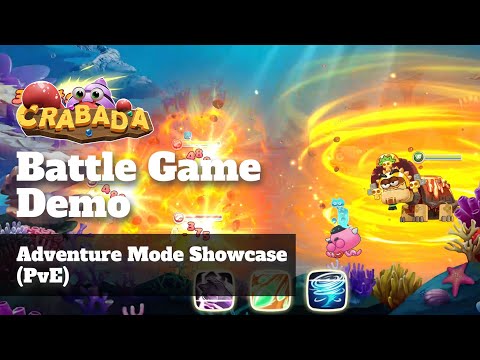 Crabada Battle Game Full Tutorial
Get Web3 Smart. Subscribe to our daily digest.
You can unsubscribe any time. By subscribing, you agree to our Privacy Policy & ToS.