Overview
Breeding/Card/PvP
Ethereum  
Ronin  
Binance Smart Chain  
Solana  
Harmony  
Axie Infinity is an NFT-based metaverse strategy video game, based on a play-to-earn game model. Its in-game economy uses Ethereum based cryptocurrencies. It can be played as a single player or player versus player mode. It is available on several platforms such as Android, iOS, Microsoft Windows and Mac operating systems.
The Axie universe is intended to be fun and to provide an immersive gaming experience.
Tokens: Axie Infinity Shards $AXS
These are an ERC-20 governance token used in the Axie Universe. AXS holders will be able to earn rewards in different ways if they stake their tokens, for example by playing the game or participating in key governance votes. Also, they may be able to earn $XAS when they play various games within the Axie Infinity Universe.
Breeding Axis
Players can breed Axies to create new offspring. However, there is a limit on the number of times Axies can be bred before they become sterile in order to avoid hyperinflation of Axies. Other limitations exist such as; Axis cannot be bred with their children or siblings.
The Axies collection allows players to utilize them strategically throughout the game. There are billions of genetic Axie combinations, each Axie comes with its own weaknesses and strengths.
$SLP
You need AXS and $SLP (Smooth Love Potions) in order to breed an Axie, it also depends how many times the Axies have been bred.
The $SLP is not sold to players directly. It can be earned by playing the game in the PvP Arena and once players earn them the $SLP can be synced to the player's wallet.
Gameplay
Raylights is the first Axie Infinity land mini-game and is accessible to all landowners. Players can sow minerals, grow plants and cultivate beautiful land plots in Lunacia.
The story in Axie infinity: Raylights starts at the dawn of axie civilization on Lunicia. The Axies are newly formed beings and need to discover farming and growing techniques needed so they can build Lunacia into a true homeland.
Plants are grown through the seedling nursery. After a combination of minerals are added you need to drag an Axie into the "Add Axie" box, press the grow button, sit back and watch the plant grow, go into the "Items" tab and then you will be able to drag the plant onto your plot.
Different Mineral Codes unlock different plants, and different land rarities have different codes. A key aspect of this game is to pursue a perfectly aesthetic plot. The players can buy land in the marketplace to establish their kingdom and farm tokens and resources on their land.
Axie Infinity Content
Videos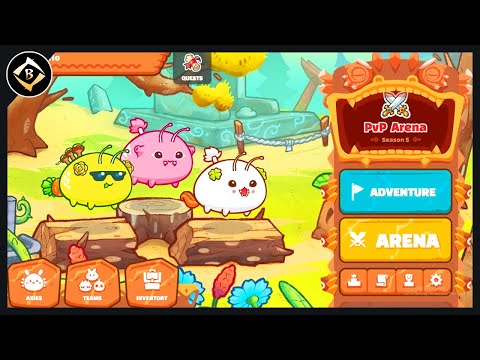 How to play Axie Infinity - Tutorial for Beginners | Axie Infinity - Blockchain NFT game
Get Web3 Smart. Subscribe to our daily digest.
You can unsubscribe any time. By subscribing, you agree to our Privacy Policy & ToS.