Overview
Collectible/DeFi
Ethereum  
Aavegotchi: DeFi-staked NFT Collectibles Game
Aavegotchi is a blockchain-based game built on Ethereum that allows players to purchase and grow Aavegotchis, which are Non-Fungible Token (NFT) avatars with unique attributes defined by a rarity score. The rarity score is calculated based on character traits, wearables, kinship score, and the amount of Aave-powered aTokens staked to the avatar. Aavegotchi combines popular aspects of crypto, such as DeFi, blockchain gaming, staking, and digital land ownership, into one unified platform.
Game Token
The game token is ERC20 tokens powered by Aave, known as aTokens.
Aavegotchis NFTs
Aavegotchis are NFTs staked with DeFi-enabled ERC20 tokens powered by Aave, known as aTokens. Aavegotchis possess three attributes that determine their overall value and rarity within the Aavegotchi universe -- spirit force, traits, and wearables.
What gives Aavegotchis value?
The valuation of an Aavegotchi comes from its intrinsic value and rarity score. The intrinsic value is the denominated value of the Aavegotchi's Spirit Force (staked collateral) and any accrued aTokens from the Lending Pool. Rarity score is determined by the rareness of each Aavegotchi's traits and equipped wearables within the Aavegotchi universe. Rarity can change over time as Aavegotchis level up and equip different wearables, enabling a novel concept known as "rarity farming."
What is Rarity Farming?
Rarity farming is a game mechanism introduced in Aavegotchi designed to encourage and reward thoughtful gameplay and active participation from users. Players get rewarded in GHST tokens for training the rarest Aavegotchis. Initially, only ERC20 tokens listed on the Aave platform (aTokens) are available as collaterals. However, once AavegotchiDAO launches, the community will be able to vote on which new collaterals to allow.
Aavegotchi Content
Videos
Aavegotchi play now FREE and make more than $3+ per hour!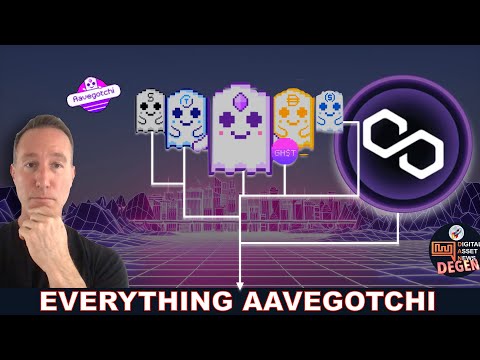 AAVEGOTCHI: HOW TO PLAY BUY LOAN & EARN THIS CRYPTO P2E POLYGON GAME.
Get Web3 Smart. Subscribe to our daily digest.
You can unsubscribe any time. By subscribing, you agree to our Privacy Policy & ToS.